Aviation Books

> Avro Lancaster MkI/III: Early Production Batches 1941-1943: Wingleader Photo Archive Number 5
Avro Lancaster MkI/III: Early Production Batches 1941-1943: Wingleader Photo Archive Number 5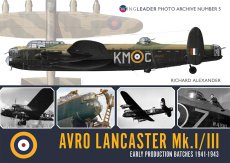 Format: Paperback
An introduction to the NEW Wingleader Photo Archive Series.‍
For quite a few years, Simon Parry and Mark Postlethwaite have been building up a huge library of original WWII aviation photos, partly as a hobby but mainly to help provide photos for the books that they publish. With over 30,000 now in the collection, they realised that they had more than enough to produce a series of photo books on individual aircraft types and sub-types. They set out to make the series as ideally suited to modellers and artists as possible, so large photos, using A4 landscape format, and minimal text except for extended captions. Effectively their aim is to produce a 21st Century version of the Profile Publications series of books from the 1960s, using the latest technology to reproduce their wartime photos to the highest standard possible.
This series is unique in that it will be able to provide large format ORIGINAL photos up to full A4 landscape format width, which is at least 50% larger than any standard book can deliver. Combined with the specialist knowledge of a team of historians and contributors, each book should provide unbeatable and accurate references for any modelling or painting project.
"After devoting the first four volumes in this series to Battle of Britain subjects, we now turn our attention to another icon of British aviation, the Avro Lancaster. The problem with the Lanc was always going to be how to break it down into manageable sizes. We considered chronologically but it didn't quite tell the story as we wanted, so in the end we went for a layout by production batches and therefore serial numbers. This has thrown up some interesting details along the way and we can guarantee that even the biggest Lancaster fans will learn some new facts from this book. Part One therefore covers serial numbers L7527 to JB748 which chronologically is roughly 1941 to the end of 1943. The plan is to feature later serials in a second part and then a third part will cover the MkII and other special Lancaster types like the B1 Special and the Type 464 (Provisioning) 'Dambuster version. Needless to say, if you have any interesting 1944/45 Lancaster photos, please get in touch with us."
This book contains approx 120 original wartime/pre-war photos and 6 in-depth colour profiles
Book Title:
Avro Lancaster MkI/III: Early Production Batches 1941-1943: Wingleader Photo Archive Number 5
Author:
Richard Alexander
About the Author:
Richard is an experienced modeller and researcher who for 12 years was General Manager of Wingnut Wings, a model kit company founded by Sir Peter Jackson
Title Release:
January 2021
Reviews
Dave - Nsw
Great book,very informative with plenty of rare photographs. A must for the modeller or the Lancaster buff. Highly recommended.
Joan - Nederland
Very good book,
Write a review
Add your review of the Avro Lancaster MkI/III: Early Production Batches 1941-1943: Wingleader Photo Archive Number 5.
If you purchased this product with a shop account, please login before reviewing the product.