Aviation Books

> Avro Lancaster MkI/III Late Production Batches 1943 to 1945: Wingleader Photo Archive Number 15
Avro Lancaster MkI/III Late Production Batches 1943 to 1945: Wingleader Photo Archive Number 15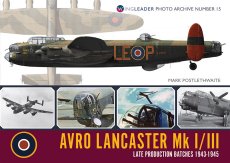 Format: Paperback
The most commonly asked modelling question about Lancasters is usually along the lines of "I'm making Grandad's Lancaster LM257 but don't know if it had fuselage windows, paddle blade props, early style pitot tube etc". Having browsed pages and pages of replies to such questions on the internet, we could see that nobody really knew definitive answers, in fact the majority were just plain wrong!
So, with this in mind, we set out to create a definitive guide to what the various serial batches would have looked like and what mods they would have had. This book, along with the previous WPA5, form an essential guide to the wartime Main Force Avro Lancaster, using high-res wartime photos to illustrate key features of each serial batch to guide modellers and historians in the future. With previously unpublished colour images of Village Inn and Monica III, this book is a must for any Lancaster enthusiast.
‍
The last volume (WPA 5) covered Mk I/III early production batches up to 1943 (L7527 to JB748), whereas this one covers Mk I/IIIs from 1943 to the end of the war (HK535 to SW279). We've avoided post-war Lancs and other Mks as they will appear in a future volume. Also set aside for a future volume is a more in-depth look into the interior of the Lancaster and the various equipment that was carried.

As with all the books in this series, we've enhanced the photos to pull out the shadow detail and have added arrows and letters to identify points of interest.
Book Title:
Avro Lancaster MkI/III Late Production Batches 1943 to 1945: Wingleader Photo Archive Number 15
Author:
Mark Postlethwaite
About the Author:
Mark is one of the world's leading aviation artists, with his work hanging in major collections and museums worldwide. He has been a professional aviation artist for over 25 years and during his career has flown in a variety of front line military aircraft including the Harrier, Hawk and Tucano, as well as vintage types such as the BE2c and the FE2b down in New Zealand. He has also contributed to several TV documentaries and even won the top prize on the old TV game show $64,000 Question with Bob Monkhouse answering questions on the Battle of Britain. Mark has produced over 150 cover paintings for Osprey Publishing over the years and in his early career was published by Air Vice Marshal J E 'Johnnie' Johnson's fine art business. He has a broad knowledge of WWII aviation with a particular focus and passion for RAF Bomber Command.
Write a review
Be one of the first to review the Avro Lancaster MkI/III Late Production Batches 1943 to 1945: Wingleader Photo Archive Number 15.
If you purchased this product with a shop account, please login before reviewing the product.