Complicated Watches & Their Repair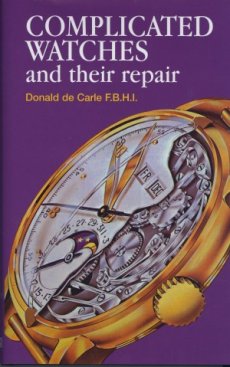 Format: Hardback
Dealing with a complicated watch used to be a rare job for the watch repairer, but with the popularity of the automatic, it is almost commonplace. Furthermore, the increased interest in calendar work, alarm watches, and chronographs will undoubtedly bring more and more complicated work into the workshop.
This book deals with complicated work essentially from the repairer's point of view. The action of each mechanism is briefly and clearly described because understanding this is essential to proper servicing, repair and testing for functioning. Dismantling and assembly instructions are given, as well as oiling charts and - most important - hints on fault-finding and their rectification. Another essential feature of the book is that it deals with all complicated work - from the relatively simple automatic to the triple-complicated watch with chronograph, calendar and repeater work, and the very complicated clock watch. Exceptional care has been taken in the preparation of diagrams, which have been drawn from actual movements in various stages of assembly, so that the reader can actually work with the book illustrations beside the watch itself. As always with books by Donald de Carle, instructions are easy to follow and there is no reason why anyone well versed in ordinary work and able to use watchmakers' tools should not become a specialist in complicated watches and their repair.
Book Title:
Complicated Watches & Their Repair
About the Author:
Donald de Carle was a Fellow and Medallist of the British Horological Institute and Freeman of the City of London by virtue of being a Liveryman of the Worshipful Company of Clockmakers. He contributed to the Encyclopaedia Britannica and was the author of many other horological works including Clock and Watch Repairing, Complicated Watches and their Repair, Practical Watch Repairing, Practical Clock Repairing, Watch and Clock Encyclopaedia, Clocks and their Value, Horology ('Teach Yourself Series'), Practical Watch Adjusting and Springing, Watches and their Value, etc. Donald de Carle died in 1989.