Clock & Horology Books

> Watchmakers & Model Engineers Lathe 6th Edition
Watchmakers & Model Engineers Lathe 6th Edition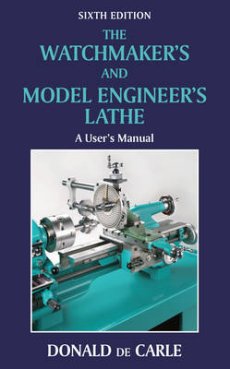 Format: Hardback
Now in its sixth edition, this book is the definitive work on the small precision lathe, past and present. The bulk of de Carle's original text has been retained and covers basic construction, selection, care of and accessories for the lathe, as well as its uses. Likewise, the chapter 'Lathes of the World' is still included, since it represents an unparalelled source of detailed information on lathes and accessories, the manufacture of which ceased many years ago. However, this new edition is fully up to date. The current scene is dealt with at length in the final section, 'Lathes Today', and is the result of extensive world-wide research. The directory of lathe, tool and material stockists has also been completely revised. "The Watchmaker's and Model Engineer's Lathe" is still, to quote one reviewer of a previous edition, 'The standard work on the subject'.
Book Title:
Watchmakers & Model Engineers Lathe 6th Edition
About the Author:
Donald de Carle was a Fellow and Medallist of the British Horological Institute and Freeman of the City of London by virtue of being a Liveryman of the Worshipful Company of Clockmakers. He contributed to the Encyclopaedia Britannica and was the author of many other horological works including Clock and Watch Repairing, Complicated Watches and their Repair, Practical Watch Repairing, Practical Clock Repairing, Watch and Clock Encyclopaedia, Clocks and their Value, Horology ('Teach Yourself Series'), Practical Watch Adjusting and Springing, Watches and their Value, etc. Donald de Carle died in 1989.
Title Release:
March 2010
Write a review
Be one of the first to review the Watchmakers & Model Engineers Lathe 6th Edition.
If you purchased this product with a shop account, please login before reviewing the product.
Recommended Products