Aviation Books

> Battle of Britain Combat Archive: Battle of Britain Day Supplement
Battle of Britain Combat Archive: Battle of Britain Day Supplement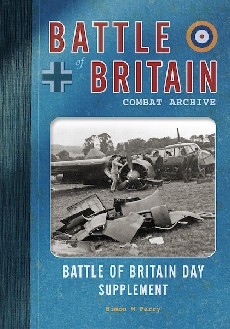 Format: Paperback
When Wingleader came to publish Volume 13 of the BofBCA series, we realised that we simply had too much material to fit into the book for the 15th September. This was the day of course when the RAF claimed 185 victories and these combat reports alone would have filled an entire volume(!), so we decided to print all of this extra material in a supplemental volume for those who would be interested.
As we developed the plans for this supplement, we realised that this would also give us the scope to dig deeper into this famous day of the Battle and find out more about what really happened.
The final 80 page book therefore forms an essential companion volume to Vol 13 of the main series. It includes the following;
The 'Legend' of Battle of Britain Day.
Luftwaffe strength and effort.
Fighter Command's tactics.
Göring's reaction.
Effect on Unternehmen Seelöwe.
The Legacy of 'Over-Claiming'.
Sorties flown by RAF Pilots.
Extra Combat Reports.
The centre 46 pages cover each RAF squadron's operational flights on 15 September with pilot/aircraft serial number/aircraft code recorded where possible along with timings and victory claims. It is the first time that this has been published in such detail for any day of the Battle of Britain and really gives the reader an impression of how busy The Few were on this day.
Book Title:
Battle of Britain Combat Archive: Battle of Britain Day Supplement
About the Author:
Simon W Parry is now one of Britain's leading aviation historians, but his roots are in Surrey where he began his research into the battles and aircraft crashes in the county 30 years ago, a time it was possible to interview many witnesses to the events. His interest in the air war lead him to become a profession researcher at the National Archives, undertaking a assignments for those not able to conduct their own investigations. Since the publication of his first book in 1987 he has focussed his attentions on the editing and production of over 40 aviation books for publishers. He is also one of Europe's most experienced aviation archaeologists, contributing to several TV shows, and is now working with Channel 4 on a documentary about the Dambusters.
Title Release:
January 2023
Write a review
Be one of the first to review the Battle of Britain Combat Archive: Battle of Britain Day Supplement.
If you purchased this product with a shop account, please login before reviewing the product.