Aviation Books

> Battle of Britain Prelude: 18 June - 9 July 1940 Air Combat Archive
Battle of Britain Prelude: 18 June - 9 July 1940 Air Combat Archive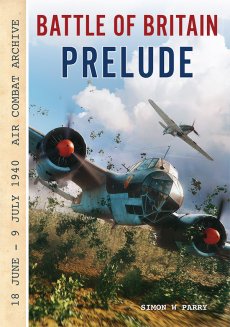 Format: Paperback
Sidelined by the retrospective decision to 'start' the Battle on 10th July, the period of three weeks between the final withdrawal of the RAF from France and the official start of the Battle of Britain has been almost completely ignored by historians.
Here, for the first time, those early combats, fought day and night over the UK, are fully detailed in the usual 'warts and all' style, giving the reader a possible insight into why Dowding decided that the Battle only started on 10th July despite the fact that many of his young pilots had by then already paid the ultimate price whilst defending the British mainland.
Book Title:
Battle of Britain Prelude: 18 June - 9 July 1940 Air Combat Archive
About the Author:
Simon W Parry is now one of Britain's leading aviation historians, but his roots are in Surrey where he began his research into the battles and aircraft crashes in the county 30 years ago, a time it was possible to interview many witnesses to the events. His interest in the air war lead him to become a profession researcher at the National Archives, undertaking a assignments for those not able to conduct their own investigations. Since the publication of his first book in 1987 he has focussed his attentions on the editing and production of over 40 aviation books for publishers. He is also one of Europe's most experienced aviation archaeologists, contributing to several TV shows, and is now working with Channel 4 on a documentary about the Dambusters.
Write a review
Be one of the first to review the Battle of Britain Prelude: 18 June - 9 July 1940 Air Combat Archive.
If you purchased this product with a shop account, please login before reviewing the product.