Aviation Books

> Battle of Britain Combat Archive Vol 6
Battle of Britain Combat Archive Vol 6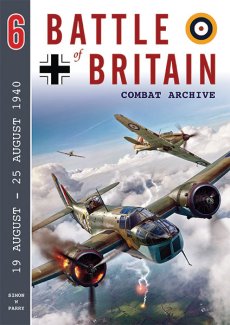 Format: Paperback
Red Kite are delighted to introduce a major new landmark series of books on the Battle of Britain. The Battle of Britain Combat Archive Series forms the most comprehensive account ever of The Few's gallant efforts. Focusing solely on RAF Fighter Command's clashes with the Luftwaffe, the series covers every combat that took place on every day of the Battle of Britain. Using contemporary accounts such as combat reports, rarely seen squadron intelligence summaries and the newly released casualty reports, the author and his team of experts have broken down each day into its individual combats and assembled the claims, losses and first-hand accounts into a highly accessible format. These combats are illustrated with specially designed maps showing the amount of aircraft involved, the area that the engagement took place and the location of where the casualties came to earth. Each combat and casualty report is illustrated with a photo of the pilot wherever possible.
The series will run to around 12 Volumes and will be published quarterly. This volume covers just three days, 16th, 17th and 18th August 1940 but the former and the latter were two of the most significant days of the Battle, covering the death of Billy Fiske, Stukas over Tangmere, Nicolson VC, the Kenley Raid and much more.
Book Title:
Battle of Britain Combat Archive Vol 6
About the Author:
Simon W Parry is now one of Britain's leading aviation historians, but his roots are in Surrey where he began his research into the battles and aircraft crashes in the county 30 years ago, a time it was possible to interview many witnesses to the events. His interest in the air war lead him to become a profession researcher at the National Archives, undertaking a assignments for those not able to conduct their own investigations. Since the publication of his first book in 1987 he has focussed his attentions on the editing and production of over 40 aviation books for publishers. He is also one of Europe's most experienced aviation archaeologists, contributing to several TV shows, and is now working with Channel 4 on a documentary about the Dambusters.
Publisher:
Red Kite Publications