Railway Books

> British Railways First Generation DMUS 2ed
British Railways First Generation DMUS 2ed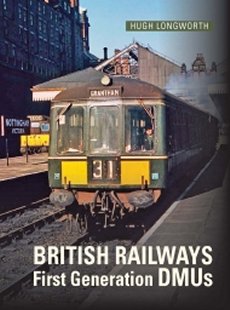 Format: Hardback
First widely introduced from the early 1950s onwards, the diesel multiple-unit represented an attempt to produce a vehicle that would replace steam traction on the country's branch lines and secondary routes at a time when the railway industry was in desperate need of a cheaper alternative to steam in order to improve the finances of these increasingly unremunerative lines. Over 4,000 vehicles were ordered from both BR works and private manufacturers as part of the BR modernisation plan of 1955.
Following refurbishment from the early 1970s onwards, many first generation DMUs were to survive in service until the late 1980s and early 1990s. Although most were scrapped after withdrawal, a significant number of these vehicles have been preserved on the nation's heritage railways.
This updated and expanded edition of Hugh Longworth's classic book on the subject records the great variety of DMU types constructed as part of the programme. Each is covered in detail with information about construction, technical specifications, entry into service, formations, allocations, withdrawal and final fate. This new edition makes full use of colour throughout with many additional photos included. The diagrams have been redrawn and a new section showing the unit formations has been added.
Comprehensive in its coverage, this book will be sought after by all those modellers, preservationists and historians seeking a detailed reference work on the history of the generation of DMUs.
Book Title:
British Railways First Generation DMUS 2ed
About the Author:
A lifelong railway enthusiast, Hugh Longworth began trainspotting in Liverpool in 1969. From an early age he started keeping detailed lists of rolling stock which developed into the series of books he is now producing. He specialises in creative ways of presenting complicated and detailed topics. Hugh studied Computer Science at University College London in 1976-79 and then moved on to a varied career in computing. He currently works in the computer gaming industry as a technical writer, helping to communicate detailed technical information to games programmers.
Title Release:
October 2022
Write a review
Be one of the first to review the British Railways First Generation DMUS 2ed.
If you purchased this product with a shop account, please login before reviewing the product.
Recommended Products