British Railways Diesel and Electric Locomotives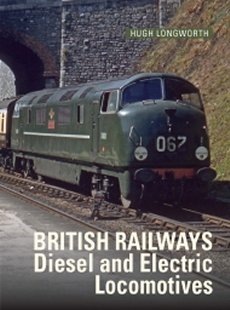 Format: Hardback
Hugh Longworth has published a number of very successful volumes on British Railways' steam locos, DMUs and coaching stock. His thorough and detailed research has focused on the operation history and allocations of the rolling stock types covered in these books.
In this completely new work, in the style of those previously published, he covers in detail all the classes of diesel and electrics locomotives that were introduced by BR from the modernisation plan of 1955 to the present day. Each class, which operated over this lengthy period, is covered in the book. The headlong rush to eliminate steam traction and modernise the railways from the 1950s onwards produced very mixed results. Some of the locomotives introduced were very successful and long lived with examples still in service well into the twenty first century whilst others were found seriously wanting and withdrawn completely after only a few years in service.
For each class, a concise history is provided giving construction details and full technical specifications. For every individual locomotive, a full listing is provided including all numbers applied throughout its career, names where they were allocated, details of entry into service, full allocation details over their operational life as well as withdrawal and scrapping dates.
The book is illustrated throughout predominantly using colour photos and drawings and the data it contains is fully cross referenced. Comprehensive in its coverage, this book will be referred to again and again by all those interested in the diesel and electric era on Britain's railways.
Book Title:
British Railways Diesel and Electric Locomotives
Publisher:
Oxford Publishing Company
Title Release:
November 2023
Write a review
Be one of the first to review the British Railways Diesel and Electric Locomotives.
If you purchased this product with a shop account, please login before reviewing the product.
Recommended Products