Military Books

> Australia in the Great War *Limited Availability*
Australia in the Great War *Limited Availability*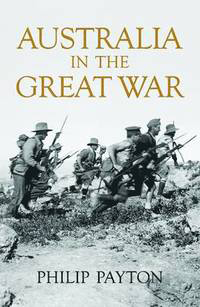 Australia in the Great War is a compelling history of Australia and its people during the global conflict of 1914–1918. It charts the experiences of ordinary men and women against a backdrop of momentous events on the international stage, and shows how war helped shape an emerging Australian national identity. It spans the heady days of August 1914, when Australia responded enthusiastically to the mother country's call for help, through the baptisms of fire at Gallipoli and on the Somme, to the dark days of Passchendaele and the remarkable battlefield performances of 1918 when the Australians were acknowledged as 'the shock troops of the British Empire'.
Interweaving stories from the home front and the battle front, Australia in the Great War examines the lives (and deaths) of those who fought on European soil. But it also explores the lives of those left half-a-world behind: the civilians at home who watched from afar. Mothers, wives and girlfriends waited anxiously for news 'from the front', and local newspapers published extended commentaries on the happenings overseas. Young men were encouraged to join the colours but there was also a fierce debate on whether conscription to the armed forces should be introduced in Australia. Eventually, in 1919, Australian troops were repatriated, but they found their country much changed, and many had difficulty readjusting to civilian life. This is their story: a tale of sacrifice and bravery in a place far from home.
The Author
Philip Payton is Professor of History at Flinders University in Adelaide, Australia, and Emeritus Professor of Cornish and Australian Studies at the University of Exeter, UK. The author/editor of more than forty books, he has written extensively on Australian history.
Philip spent his early childhood in Perth, Western Australia, and later studied for his doctorate at the University of Adelaide. A former Naval officer, he has a particular interest in military affairs. Today, he divides his time between Cornwall and Australia.
Book Title:
Australia in the Great War *Limited Availability*
Write a review
Be one of the first to review the Australia in the Great War *Limited Availability*.
If you purchased this product with a shop account, please login before reviewing the product.
Recommended Products