Railway Books

> Digital Command Control: Definitive Guide *Limited Availability*
Digital Command Control: Definitive Guide *Limited Availability*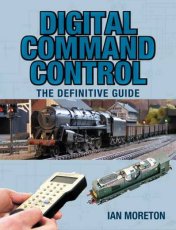 Format: Hardback, 192 Pages
This new book provides an in depth and informative exploration into the field of digital command control, in the same style as the successful ƒ??aspects of modellingƒ?? series. It also provides updated information on the changes to the products available since the original book was published in 2006 forming an up to date and definitive guide.
Over recent years there has been one major and significant advance in model railway technology: the development of Digital Command Control (DCC). Historically, wiring of a model railway was potentially complex and it was almost impossible to control more than one train at a time. DCC, however, simplifies the wiring significantly and, via the use of chips that give each locomotive a unique identity, allows for the operation of multiple trains simultaneously. Most modern ready-to-run rolling stock from manufacturers such as Hornby and Bachmann are now designed either to be fully DCC-fitted or to allow DCC to be inserted at a later stage. For modellers DCC represents a considerable challenge, particularly for those who have been modelling for a number of years and who may have significant collections of locomotives and rolling stock that predate the development of DCC.
Areas Topics covered in the book include - The process of converting an existing layout and locomotives to DCC or installing DCC on a new layout; The history and ideas behind DCC examining the advantages and disadvantages of conventional control systems and DCC from the perspective of British model railway practices; The changes that may be needed to an existing layout to accommodate the new system and ways to operate both systems during changeover. The section on decoders will discuss the various factors affecting the choice of unit for specific locomotives and provide step-by-step instructions for a couple of typical installations; The chapter on base stations will discuss the different types available and their uses. This informative new title will include instructive text allied to hundreds of images including step-by-step photographs showing how non-DCC compatible locomotives can be converted to DCC operation.
This new title forms the ultimate guide to Digital Command Control and is a must have for all rail and modelling enthusiasts worldwide!
Book Title:
Digital Command Control: Definitive Guide *Limited Availability*
Format:
Hardback, 192 Pages
Publisher:
Ian Allan Publishing
Title Release:
November 2011
Write a review
Be one of the first to review the Digital Command Control: Definitive Guide *Limited Availability*.
If you purchased this product with a shop account, please login before reviewing the product.