Railway Books

> Great Western Narrow Gauge: Illustrated History *Limited Availability*
Great Western Narrow Gauge: Illustrated History *Limited Availability*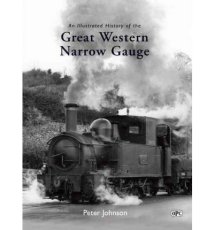 Illustrated History of the GWR Narrow Gauge is the latest instalment in the popular 'Illustrated Histories' series covering the Welsh narrow gauge lines. Following on from the huge success of both the 'Welsh highland Railway' and 'Snowdon Mountain Railway', this new addition is set to be a hit amongst rail enthusiasts. The GWR owned three of the great narrow gauge railways of Wales: two of these, the Vale of Rheidol and the Welshpool & Llanfair, had been inherited from the Cambrian Railways in 1922 but the third, the Corris was only acquired in 1931 when the GWR was keen to take-over the smaller company's bus routes.
All three of the lines have a fascinating history and all are now in whole or in part preserved. The 2ft 3in Corris Railway was originally opened as a horse-operated mineral tramway in 1859. Steam traction was adopted in 1879 and passenger services commenced four years later. Passenger services survived until 1931, the year of the GWR take-over but freight was to survive until 1948 when serious erosion of the trackbed led to its closure. After closure, two of the line's locomotives passed to the Talyllyn for preservation but the line itself was demolished. Work started on the partial restoration of the line in the late 1960s and the first demonstration track was laid in 1971 and work has continued since then.
The VoR was opened from Aberystwyth through to Devil's Bridge in 1902; although designed primarily for mineral traffic, it was the tourist trade that kept the line alive and, after 1968, it was the only part of BR to continue to operate steam. Privatised in 1989, it remains open for passenger traffic for its entire length.The 2ft 6in W & LR linked the Cambrian main line at Welshpool, running through the town's streets, to Llanfair Caerinion and opened throughout on 4 April 1903. Passenger services operated until 1931 but the line remained open for freight traffic until 1956. The first section of the preserved line opened in 1963 and the line was progressively extended through to the outskirts of Welshpool, the final extension opening in 1983.
More recently there have been tentative plans to relay the line through the town. The book includes descriptive text outlining the history of the narrow gauge lines alongside hundreds of illustrations, many of which have never been seen!
Book Title:
Great Western Narrow Gauge: Illustrated History *Limited Availability*
Write a review
Be one of the first to review the Great Western Narrow Gauge: Illustrated History *Limited Availability*.
If you purchased this product with a shop account, please login before reviewing the product.
Recommended Products