Railway Books

> British Railways Station Totems: The Complete Guide 2nd Edition
British Railways Station Totems: The Complete Guide 2nd Edition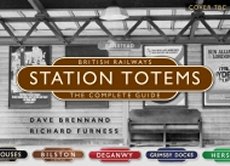 Format: Hardback
This is a second and completely revised edition of a book first published in 2002 which has been long out of print and is now much sought after.
There has always been something special about those classic British Railways totem station signs that no other item of railway memorabilia possesses. They recall a railway system that, for better or worse, was far removed from that of today, when life was simpler and less formulaic, when stations were welcoming locations rather than barrier-laden fortresses, and signage was straightforward but still informative.
Totems were deceptively simple in terms of their design and typography but clear, easy to recognise and colour coded for the various BR regions. They found on stations across the network from Penzance to Wick and from Fishguard to Cromer. They told you what you needed to know and no more, they were standardised throughout the railway system, and have rightly earned their place in the ranks of collectible railwayana, with some examples reaching five-figure sums at auctions.
This volume is as close as it is likely to get to a definitive one on all aspects of BR totems. Across its 352 pages are to be found 2,214 images – including 2,250 totems – 43 maps and a wealth of relevant statistics.
For collectors of railwayana, students of design and for all those with an interest in railway history, this book will be both a visual delight and a reference source to be referred to again and again.
Book Title:
British Railways Station Totems: The Complete Guide 2nd Edition
Author:
Dave Brennand & Richard Furness
Publisher:
Crecy Publishing
Write a review
Be one of the first to review the British Railways Station Totems: The Complete Guide 2nd Edition.
If you purchased this product with a shop account, please login before reviewing the product.
Recommended Products