Railway Books

> Birmingham and West Midlands Railway Atlas
Birmingham and West Midlands Railway Atlas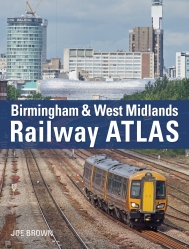 Format: Hardback
Much has changed in this region since the previous edition of this Atlas was published in 2016, notably the confirmation of the route of HS2 and extensions to the West Midlands Metro. As a consequence, a completely revised edition of this masterly cartographic portrayal of the railways and tramways of the West Midlands by leading railway cartographer, Joe Brown, was long overdue.
The Atlas covers the entire West Midlands continuous urban area of Birmingham, Walsall, Wolverhampton, West Bromwich, Stourbridge and Dudley. It also features the towns and cities surrounding this core area. This includes Stafford, Lichfield, Tamworth, Nuneaton, Coventry, Rugby, Leamington Spa, Stratford-upon-Avon, Bromsgrove and Kidderminster. As well as dealing with the complex railway system that served the area, the entire historic passenger tramway network of the region is mapped with opening and closing details provided in an Appendix. This is brought up to date with the current West Midlands Metro system and future extensions to it which have been announced as well as the planned Coventry 'Very Light Rail' system.
Intricate and finely drawn mapping shows individual track and platforms for all lines whether open and closed, as well as stations, changes of station name and opening and closing dates, and much, much more. Many of those both interested in both transport and local history will already be aware of the superb quality of Joe Brown's cartography and will wish to add this new and much enhanced edition of the Birmingham and West Midlands Railway Atlas to their libraries.
Book Title:
Birmingham and West Midlands Railway Atlas
Write a review
Be one of the first to review the Birmingham and West Midlands Railway Atlas .
If you purchased this product with a shop account, please login before reviewing the product.
Recommended Products