Railway Books

> abc British Railways Locomotives 1954 Combined Volume
abc British Railways Locomotives 1954 Combined Volume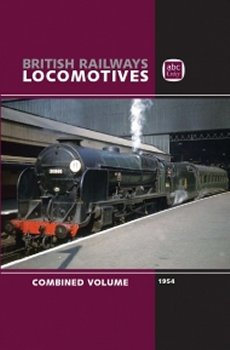 Format: Hardback
Our reprints of the famous Ian Allan Publishing abc series that ran from the 1940s through to the 1960s are always welcomed, not only by that generation of enthusiasts who used them when they first came out, but also by those who were not around at the time. They are wonderful, nostalgic snapshots of a railway scene which has long since disappeared.
The latest addition to this series is that of the Combined Volume which was published in 1954. This was a very interesting period in the development of the BR steam locomotive fleet in the 1950s. There were many venerable pre-grouping classes still around and thousands of locomotives built or designed by the Big Four, but by 1954 all of the British Railways Standard classes were in production, including the unique Class 8 Pacific No 71000 Duke of Gloucester and the first of the 9Fs which entered service that year. This was a fascinating year and abc British Railway Locomotives Combined Volume 1954 is a very welcome addition to this series.
Book Title:
abc British Railways Locomotives 1954 Combined Volume
Publisher:
Crecy Publishing
Write a review
Be one of the first to review the abc British Railways Locomotives 1954 Combined Volume.
If you purchased this product with a shop account, please login before reviewing the product.
Recommended Products