Aviation Books

> Billy Bishop Lone Wolf Hunter
Billy Bishop Lone Wolf Hunter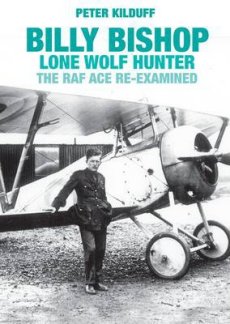 Format: Hardback, 192 Pages
William Avery Bishop - best known as Billy - has been hailed as the British Empire's highest-scoring World War I fighter ace. Officially credited with victory in seventy-two air battles, the Canadian-born pilot was honoured in a special ceremony by King George V, who presented Bishop with the Victoria Cross, Distinguished Service Order and Military Cross at the same time. Bishop also became an early recipient of the Distinguished Flying Cross. Making 'lone wolf' attacks on German aircraft, the daring young flyer pursued targets over enemy lines without having to be responsible for less experienced men in a patrol. Bishop's approach to aerial combat was extremely dangerous, however, making him more vulnerable to his adversaries. And, with sparse independent corroboration of his air fighting claims, Bishop's tactic left him open to suspicions about the veracity of his combat reports.
A key point of this book is Peter Kilduff's careful review of the ace's existing combat reports and private correspondence, as well as accounts by friends and foes. Another side of Billy Bishop is revealed in many letters to his fiancee (later wife) relating death-defying experiences while sharing tender inner thoughts. Drawing on some five decades of extensive, even-handed and thorough research into World War I aviation history, Kilduff examines a wealth of German sources for this in-depth study of the ace's aerial exploits. Drawing on all his experience, the author sheds new light on Bishop's air missions and combats, which so far are steeped in controversy.
Such methodology provides as complete an account as possible. Billy Bishop VC - Lone Wolf Hunter also serves as a valuable reference work, containing over seventy illustrations relating to Bishop and his adversaries, many previously unpublished
Book Title:
Billy Bishop Lone Wolf Hunter
Format:
Hardback, 192 Pages
About the Author:
American author Peter Kilduff has researched military aviation history for over fifty years. He edited and wrote for the US-based Cross & Cockade Journal for eighteen years and became a founder of the League of World War I Aviation Historians in 1986. Kilduff was the first managing editor of its quarterly publication Over the Front and is now that journal's book review editor and an issue editor. As voted by OtF readers, he is a twelve-time recipient of the Thornton D. Hooper Editorial Excellence Award. The author of fifteen other books on aviation history, Peter Kilduff has presented at aviation seminars in the US, UK and Canada, and lectured at the University of the Armed Forces in Germany.
Title Release:
2014-08-01