Aviation Books

> Aircraft of The Royal Australian Air Force
Aircraft of The Royal Australian Air Force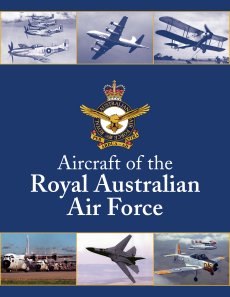 Format: Hardback
Aircraft of The Royal Australian Air Force tells the story of the RAAF's first one hundred years by describing the acquisition, operation, and service record of the multitude of aircraft types flown by the RAAF. The 176 aircraft types include the flimsy wood and canvas aircraft typical of World War I, through the technological advances during and after World War II, to modern fifth-generation, complex aircraft like the F-35 Lightning II. Even before its formation Sir Richard Williams, the Father of the RAAF, had decided to employ an alpha-numeric numbering system to identify and account for each aircraft in service. This system started with A1, A2, A3 etc as each type of aircraft came into service. Each individual aircraft within each series was identified as A1-1, A1-2 and so on and the aircraft serial became known colloquially as the 'A-number'.
With some exceptions over the century since the A-number system started, aircraft entered RAAF service in broadly the sequence of the A-numbers, and so this book is intended to assist in charting the 100-year history of the RAAF by listing aircraft operated in A-number sequence, rather than by listing them by role (such as Fighter, Bomber, Maritime, Trainer, Transport etc) or alphabetically by name or by manufacturer. The inclusion of a comprehensive Index and the Quick Reference Guide to aircraft by role is intended to facilitate the location of the entry for any specific type of aircraft for those who may not already know its A-number.
Aircraft of The Royal Australian Air Force is a must have for all those who have served in the RAAF, those with a passion for military aviation and aircraft in general, and the broader members of the public wishing to gain an appreciation of the Royal Australian Air Force in its centenary year.
Book Title:
Aircraft of The Royal Australian Air Force
Publisher:
Big Sky Publishing
Title Release:
March 2021
Write a review
Be one of the first to review the Aircraft of The Royal Australian Air Force.
If you purchased this product with a shop account, please login before reviewing the product.
Recommended Products