Aviation Books

> Dunkirk to the Fall of France: Air Combat Archive 3 June – 18 June 1940
Dunkirk to the Fall of France: Air Combat Archive 3 June – 18 June 1940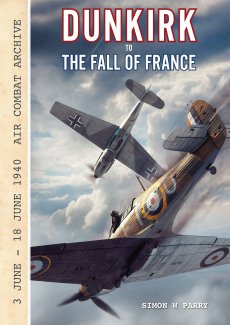 Format: Paperback
Following the great success of our Dunkirk Air Combat Archive book, we decided to 'fill the gap' between this book and the first volume of the Battle of Britain Combat Archive. This period is rarely covered in books despite a lot of significant fighting taking place both over France and the UK.
There was too much information to fit into one volume so we have split it into two.
This first volume 'Dunkirk to the Fall of France' covers 3rd - 18th June 1940. This period is significant as it begins at the end of the Dunkirk evacuation and ends on the day that the RAF flew its last operational sorties from France. During this hectic two weeks, RAF squadrons in France retreated further and further south, becoming ever more scattered and outnumbered. Squadron records were either lost or destroyed making this fortnight very difficult to research. Despite this, the author has managed to piece together the combats and losses that took place and illustrates them with detailed maps as well as the usual combat and intelligence reports.
Book Title:
Dunkirk to the Fall of France: Air Combat Archive 3 June – 18 June 1940
About the Author:
Simon W Parry is now one of Britain's leading aviation historians, but his roots are in Surrey where he began his research into the battles and aircraft crashes in the county 30 years ago, a time it was possible to interview many witnesses to the events. His interest in the air war lead him to become a profession researcher at the National Archives, undertaking a assignments for those not able to conduct their own investigations. Since the publication of his first book in 1987 he has focussed his attentions on the editing and production of over 40 aviation books for publishers. He is also one of Europe's most experienced aviation archaeologists, contributing to several TV shows, and is now working with Channel 4 on a documentary about the Dambusters.
Title Release:
October 2020
Write a review
Be one of the first to review the Dunkirk to the Fall of France: Air Combat Archive 3 June – 18 June 1940.
If you purchased this product with a shop account, please login before reviewing the product.
Recommended Products