Chinese Air Power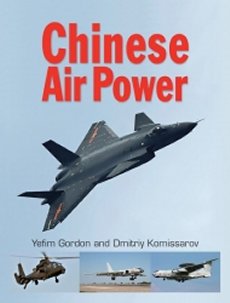 Format: Hardback
By the turn of the century China had reaffirmed its position as one of the world's leading military powers. With much importance attached to fleet renewal; the People's Liberation Army Air Force (PLAAF) and the Naval Aviation are fielding new types, emphasis shifting from local derivatives of Russian or western types to indigenously developed aircraft and helicopters. The book focuses on the current PLAAF/PLANAF order of battle and describes the most advanced aircraft types currently in service or due to enter service.
Among the many aircraft reviewed in this volume are the Chengdu J-10 single-engined fourth-generation fighter in service since 2003, fifth-generation fighters like the twin-engined, tail-first Chengdu J-20, and the smaller Shenyang J-31 fifth-generation light fighter. Deliveries of Xian H-6K missile carriers, the Chinese version of the Tupolev Tu-16 bomber, are continuing, the H-6N with in-flight refuelling capability, entering service in 2019. Transport aviation is not forgotten either. China has also been building an aircraft carrier fleet equipped with the Shenyang J-15 Flying Shark shipboard fighter derived from the Sukhoi Su-33.
The latest addition to the Chinese Army Aviation's arsenal is the Harbin Z-20 medium utility helicopter which looks like the Sikorsky S-70 Black Hawk. Numbers of the CAIC Z-10 attack helicopter and the lighter Harbin Z-19 attack helicopter are also now operational. Unmanned aerial vehicles are also reviewed in this comprehensive survey.
Book Title:
Chinese Air Power
Author:
Yefim Gordon and Dmitriy Komissarov
About the Author:
Yefim Gordon was born in 1950 in Vilnius, Lithuania, and graduated from the Kaunas Polytechnical Institute in 1972 as an engineer/electronics designer. He has been a resident of Moscow since 1973, when, as a hobby, he started collecting photographs and books on the history of Soviet aviation. This has now developed into a major archive. Since the 1980s he has been a professional aviation journalist and writer, with over 80 books published on Soviet/Russian aviation in Russian, English, Polish and Czech, as well as close to 120 magazine features and photo reports. He is also an accomplished photographer, with countless photos published in the western press; the current edition of Jane's All the World's Aircraft features more than 50 of his photographs.
Publisher:
Crecy Publishing
Recommended Products