Aviation Books

> Air War 1941: The Non-Stop Offensive Part 1
Air War 1941: The Non-Stop Offensive Part 1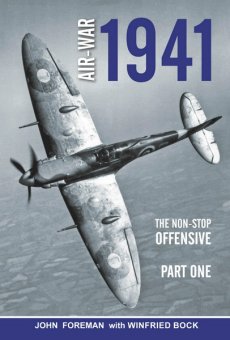 Format: Paperback
John Foreman's latest volume chronicles the hour-by-combats fought between the 22nd of June and the end of August 1941; the period that marked the start of the RAF's Non-Stop Offensive against Occupied Europe. The operational losses and combats of Fighter, Bomber and Coastal Commands, as well as the Fleet Air Arm, are detailed – as are those of the Luftwaffe. This period of the air war has not been chronicled before in this detail.
1941 – The Non-Stop Offensive, follows on from some of John's earlier books 1941 – The Turning Point (Parts 1 and 2) that cover January 1st to 21st June 1941. A limited number of these books (first published in 1994) are still available, but John is keen to point out much new information is now available and that he is working on the revised editions.
Book Title:
Air War 1941: The Non-Stop Offensive Part 1
Author:
John Foreman with Winfried Bock
About the Author: John Foreman
John was born in 1942 and remembers nothing of the war except for hiding beneath the dining-room table when the flying bombs approached. He began to seriously research the Luftwaffe and air combat in the early 1970s, visiting many Luftwaffe Aces in Germany.
After retiring from the telecommunications industry in 1992 he has concentrated on writing and researching full-time and undertakes contract research for authors and historians from all over the world.

Winfried Bock
Like John Foreman, Winfried began his research into the air war over Europe in the 1970s – but focused his attention on the Luftwaffe. He is the author or co-author of many books –notably the 'Die Jagdfliegerverbande der Deutschen Luftwaffe' series cooperating with Jochen Prien, Gerhard Stemmer and Peter Rodeike.
Write a review
Be one of the first to review the Air War 1941: The Non-Stop Offensive Part 1.
If you purchased this product with a shop account, please login before reviewing the product.
Recommended Products