Heinkel He 162: From Drawing Board to Destruction: The Volksjäger - Available Now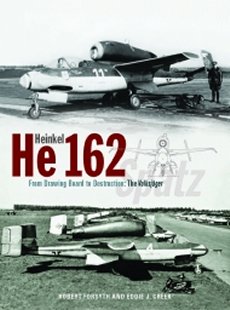 Format: Hardback
If it can be said that adversity generates creativity, then the story of the Heinkel He 162 jet fighter is testimony to such a precept. From the summer of 1944, the adversity facing the leadership of the Third Reich was formidable. Ironically however, the very existence of such adversity prompted many inventive and radical designs for the prosecution of the air defence of the Reich on a determined and even manic scale.
In the closing months of the war, at a time the Allies had assumed that they had mastered the Luftwaffe jet menace, the combined efforts of a leading German aircraft manufacturer – Ernst Heinkel AG – and a small team of dedicated civilian and military specialists achieved an almost unbelievable feat: the production of a new, jet‐powered interceptor from concept, through development and testing, to operational readiness in just six months. The accomplishment of the so‐called Volksjäger (the `People's Fighter') project was – and still is – regarded as a `miracle of production'.
Created in desperation by the Nazi leadership in mid‐1944, it was foreseen that hundreds of mass‐produced, cheap‐to‐build He 162 Volksjäger, flown by hurriedly trained young pilots using a combination of technology and fanaticism, would defend the skies over Germany against massive formations of Allied heavy bombers and their fighter escorts.
In this extensively researched book, aviation historians Robert Forsyth and Eddie J Creek, draw, for the first time, on previously unused Heinkel company papers to offer a unique insight into the workings of the Nazi production system in the late‐war period, as well as other German and Allied documents. Their work is supported by many rare photographs and accompanied by line drawings and facsimile documents as well as highly detailed colour artwork by He 162 specialist, Simon Schatz.
This book portrays the whole history of the so‐called Volksjäger project, from its inception in September 1944 (with the competing Arado, Blohm und Voss and Focke‐Wulf projects), through Heinkel's extraordinary manufacturing and aeronautical achievements – often at a considerable human cost – between October 1944 and February 1945, to the aircraft's operational deployment with Jagdgeschwader 1 and the planned variants and weapons systems as well as British, American and French testing of the machine in the late 1940s.
This is the most comprehensive history of this fascinating aircraft to be published in the English language and is a natural accompaniment to the other detailed German aircraft monographs published by Classic Publications. It will form an essential reference work to all those interested in the airpower of the Second World War.
Book Title:
Heinkel He 162: From Drawing Board to Destruction: The Volksjäger - Available Now
Author:
Robert Forsyth & Eddie J. Creek
Publisher:
Classic Publications
Title Release:
October 2023
Write a review
Be one of the first to review the Heinkel He 162: From Drawing Board to Destruction: The Volksjäger - Available Now.
If you purchased this product with a shop account, please login before reviewing the product.
Recommended Products