British Railways Freight Terminals: Since 1960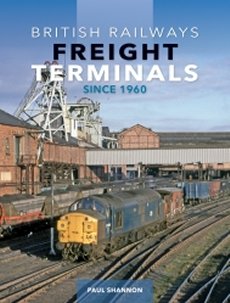 Format: Hardback
Arguably, since the 1920s but markedly since the 1960s, the railways have been fighting a losing battle with the road transport to retain their share of freight traffic. Gone are the days when almost every British passenger station had its own goods yard, handling all kinds of freight in wagonload quantities for distribution in the local area. That network of general freight terminals was gradually reduced and, eventually, eliminated, as the railway lost out to its main competitor, the lorry, with British Rail effectively throwing in the towel in relation to wagonload traffic with the demise of the Speedlink network in the 1990s.
At the same time, rail freight has developed new markets for heavy trainload operations. That growth has led to the setting up of specialised terminals for aggregates, cement, steel, deep-sea containers and other bulk cargoes. The move from traditional wagonload traffic to lengthy and heavy block trains conveying only type of freight has been fully accomplished.
This book illustrates and describes the huge transition that has taken place across the British railway network over the last 60 years in relation to the handling of goods traffic. It provides views of long-forgotten operations forming a stark contrast with the streamlined facilities of today. The book also looks at the range of traction and rolling-stock which was used to handle the nation's railway freight traffic over the decades ranging from steam-hauled pick-up goods trains to today's uniform loads of 2,000 tonnes and more.
Book Title:
British Railways Freight Terminals: Since 1960
Publisher:
Oxford Publishing Company
Title Release:
October 2023
Write a review
Be one of the first to review the British Railways Freight Terminals: Since 1960.
If you purchased this product with a shop account, please login before reviewing the product.