Speedlink Volume 1: Introduction, Covered Goods Vans and Open Wagons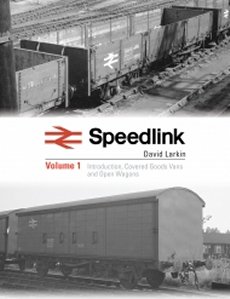 Format: Hardback
Speedlink was launched in 1977 as an attempt to arrest the decline in British Rail's wagonload freight business. One of the things that distinguished Speedlink workings from almost all of the freight services that had preceded it, was that all the wagons used were air braked. At its peak in the mid 1980s, it carried over 8 million tonnes annually. However, despite this, Speedlink was never profitable and in the run up to railway privatisation, the service was abandoned in 1991.
This is the first of short series of four books, each one complete in itself, which will provide a comprehensive survey of the whole Speedlink wagon fleet. This first volume begins by setting the scene from which Speedlink emerged. It explores the background to BR's lossmaking wagonload business from the 1960s onwards and examines the circumstances which led to the creation of Speedlink as the solution to these problems.
Having dealt with the background to its emergence, the book moves on to look at existing air braked stock owned by British Rail prior to the launch of Speedlink including that built in the 1960s for use on train ferries and vehicles converted to air braking. All the many types of existing covered vans and open wagons that could be used on Speedlink are thus featured in this volume.
Written by wagon expert David Larkin and heavily illustrated throughout, this series will be an invaluable source of reference for all those interested in the post steam era on Britain's railways. Those modeling the railway scene from the 1970s to the 1990s will also find these books essential reading.
Book Title:
Speedlink Volume 1: Introduction, Covered Goods Vans and Open Wagons
Publisher:
Oxford Publishing Company
Title Release:
September 2023
Write a review
Be one of the first to review the Speedlink Volume 1: Introduction, Covered Goods Vans and Open Wagons.
If you purchased this product with a shop account, please login before reviewing the product.