Aviation Books

>

Military Aviation

> Bristol Blenheim MkI & MkIf: Modellers Photographic Archive Number 1
Bristol Blenheim MkI & MkIf: Modellers Photographic Archive Number 1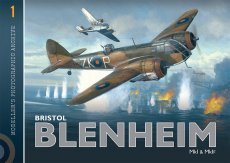 Format: Paperback
The Modeller's Photographic Archive series is essentially a 96 page A4 landscape photo book format using the very best original wartime images from various private collections. The landscape format allows the publishers to reproduce images as much as 60cm across (24") when on a double page spread, a huge increase compared to standard A4 portrait publications. Also included are a 'walkaround' section, notes on camouflage and markings, squadron details and then a profile section where 13 different aircraft are profiled with accompanying photos.
Using only wartime photos, this series of books will prove invaluable to historians, modellers and artists alike, providing the clearest window yet on each aircraft type.
Part one of the MPA series covers the Bristol Blenheim MkI and MkIf. There have been many publications on the Blenheim over the years but most concentrate on the MkIV long nosed version. This is the first book devoted to the MkI and the authors have managed to discover some wonderfully crystal clear photos from the archives to illustrate this unsung hero of the RAF.
Book Title:
Bristol Blenheim MkI & MkIf: Modellers Photographic Archive Number 1
Title Release:
September 2018
Author:
Mark Postlethwaite & Alan Price
About the Author: Mark is one of the world's leading aviation artists, with his work hanging in major collections and museums worldwide. He has been a professional aviation artist for over 25 years and during his career has flown in a variety of front line military aircraft including the Harrier, Hawk and Tucano, as well as vintage types such as the BE2c and the FE2b down in New Zealand. He has also contributed to several TV documentaries and even won the top prize on the old TV game show $64,000 Question with Bob Monkhouse answering questions on the Battle of Britain. Mark has produced over 150 cover paintings for Osprey Publishing over the years and in his early career was published by Air Vice Marshal J E 'Johnnie' Johnson's fine art business. He has a broad knowledge of WWII aviation with a particular focus and passion for RAF Bomber Command..

Alan Price is a scale modelling enthusiast with over 40 years experience. He has been building models and writing about them for Airfix Model World Magazine and Model Airplane International Magazine for almost ten years. In 2015 he ran a twelve month long series in Model Airplane International on the aircraft of the Battle of Britain, which has long been a particular area of interest. A lifelong aviation enthusiast he has worked in the military aviation business for most of his career.
Submit your review
Be one of the first to review the Bristol Blenheim MkI & MkIf: Modellers Photographic Archive Number 1.
If you purchased this product with a shop account, please login before reviewing the product.
Recommended Products