Watch & Clock Encyclopedia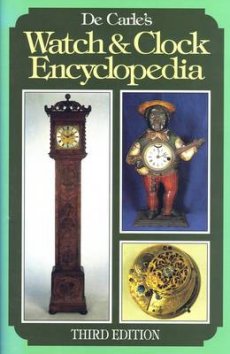 Format: Hardback
First published in 1950, De Carle's encyclopaedia is still the definitive practical reference book on clocks and watches. The book has an immense amount of knowledge compressed into an easily understood form. There are over 3,000 alphabetical entries providing antiquarian as well as technical and professional information. Over one-third of the entries are illustrated, and nearly all of the line drawings are the work of the late Arthur Ayres FBHI. There are many special sections among the thousands of entries in this book. They include : Antique Clock and Case Terms; Balance Spring Sizes; Bracket Clock Styles; Chimes for Clocks - Musical Notation; Clock Case Woods; English Clock Case Styles; French Period Clock Styles; Gear Trains for Clocks and Watches; Longcase Clock Styles; Mainspring Gauge Sizes; Material Standardisation for Watches; Metals used in Horology; Motion Train Works; Pressure Conversion Tables for Waterproof Watches; Shock Absorber Systems; Standard Time Zones; Swiss official Bureaux Tests for Watches; Testing Standards for Watches; Timers - Specialised types; Watch Glass Styles; Watch Hand Styles; Watch Part Nomenclature in Six Languages; Workshop Hints and Help.
Book Title:
Watch & Clock Encyclopedia
About the Author:
Donald de Carle was a Fellow and Medallist of the British Horological Institute, and a Freeman of the City of London by virtue of being a Liveryman of the Worshipful Company of Clockmakers. He contributed to the Encyclopaedia Britannica and was the author of many other horological works including Clock and Watch Repairing, Complicated Watches and their Repair, Practical Clock Repairing, Clocks and their Value, Horology ('Teach Yourself Series'), Practical Watch Adjusting and Springing, The Watchmaker's and Modern Engineer's Lathe, Watches and their Value, etc. Donald de Carle died in 1989.