Advanced Jewellery CAD Modelling in Rhino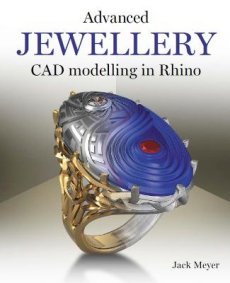 Format: Paperback
This detailed guide is written for intermediate and experienced Rhino 3D CAD users who wish to improve their understanding of NURBS and subdivision modelling methods in Rhino 3D. It explains how 3D modelling applies to jewellery and manufacturing through a combination of step-by-step tutorials, analysis of the software techniques and demonstrations of real world case studies. Packed with essential techniques and strategies, it can be used as a self-learning tool or a classroom text to take your use of Rhino's 3D NURBS and subdivision modelling tools to a higher level. This new book gives a comprehensive and fluid strategic approach to modelling solids, surfaces and subdivision objects in Rhino. The application of jewellery manufacturing tolerances across a range of different jewellery types is covered. The essential tools and holistic strategy of Rhino's SubD organic modelling suite, and how it fits within the greater scheme of Rhino modelling is discussed. Finally, there is an overview of useful practices for creating good CAD renders using Rhino Cycles.
Book Title:
Advanced Jewellery CAD Modelling in Rhino
About the Author:
Jack Meyer has been providing jewellery CAD consulting services and training in London's jewellery district Hatton Garden since 2006. His combined background in computer graphics programming as well as jewellery manufacturing brings an in-depth and practical understanding to his teaching. He is a certified trainer in all major jewellery CAD software packages in use today.
Publisher:
The Crowood Press Ltd
Recommended Products