Dingwall & Skye Railway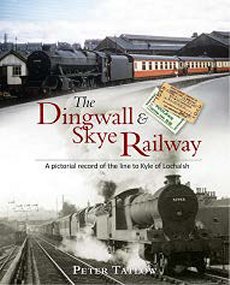 Format: Hardback, 160 Pages
In 1870 the Dingwall and Skye Railway was the first line, north of Glasgow, to reach the west coast of Scotland and is still the most northerly. Initially running to Stromeferry on Loch Carron, in 1897 it was extended to the Kyle of Lochalsh, opposite the Isle of Skye and at over 63 miles it is the longest branch line in Great Britain.
Threatened with closure during the Beeching era, it was reprieved by the traffic generated in connection with the construction of a concrete platform for the off-shore oil industry. Vigorous campaigning by local government and the community has secured its ongoing operation providing one of the most dramatic and picturesque rail journeys in the country.
With over sixty years of personal experience of the line, Peter Tatlow describes the difficulties of construction through mountainous terrain and along rocky coasts, the challenges of rival and competitive schemes, and the operation of the line over the years; together with a look at the short branch line to the spa village of Strathpeffer.
A comprehensive MUST READ for all railway historians and enthusiasts!
Book Title:
Dingwall & Skye Railway
Format:
Hardback, 160 Pages
Publisher:
Crecy Publishing
Recommended Products