Aviation Books

> Air Force: Inside the New Era of Australian Air Power
Air Force: Inside the New Era of Australian Air Power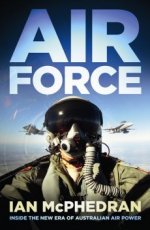 The inside story of the modern Royal Australian Air Force and its people in an action-packed period of air power from East Timor and the Bali bombings to the wars in Iraq and Afghanistan.
Award-winning journalist and best-selling author Ian McPhedran takes us on another exclusive journey, this time to the heart of the RAAF through personal stories of fighter pilots' bombing raids over Iraq, hi-tech spy planes over Afghanistan, the operational nerve centre of the Middle East war and the men and women who deliver humanitarian aid and alleviate suffering around the world.
This is the compelling narrative in the RAAF's 90th year of its aircraft, traditions and personalities, from the corridors of power in Canberra to far-flung bases around Australia and the world, in more than a decade of rapid change as technology propels it into the next generation of air power and the futuristic era of stealth.
It is a must-read not only for aviation and military buffs or those who are curious about what the RAAF has been doing since 1999, but for anyone who has glanced skywards at the sound of an air force plane passing overhead.
We know a lot about what the army has been up to since East Timor in 1999, but what about the Air Force?
Air power was a key deterrent during the 1999 East Timor crisis, when F-111s were sent to Tindal in the Northern Territory and used for reconnaissance flights over the island. The RAAF has been very busy on operations around the world, from F/A-18 Hornet fighters dropping bombs on Saddam's palaces in Baghdad to Hercules C-130 and huge C-17 transport planes supporting war fighting and humanitarian missions all over the globe. Then there are the P-3 Orion spy planes flying clandestine night missions throughout the Middle East or using their high-tech imaging equipment to find lost yachtsmen in the Southern Ocean.
Featuring unpublished and previously secret material, including bomb camera imagery.

Book Title:
Air Force: Inside the New Era of Australian Air Power
Submit your review
Be one of the first to review the Air Force: Inside the New Era of Australian Air Power.
If you purchased this product with a shop account, please login before reviewing the product.
Recommended Products