Junkers JU87: From Dive-bomber to Tank Buster 1935-45 (Publication delayed. Now late 2022)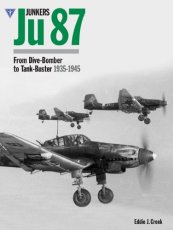 Format: Hardback, 336 Pages
This large format hardback is heavily packed with information on the Ju87 Stuka. Highly illustrated, it represents a comprehensive, detailed reference work to be used by enthusiasts and modellers for 'one-stop' ease of access to information to one of the most well known aircrafts of Word War 2. The pedigree of the author's research will mean that this will be the must-have book for all enthusiasts on the Ju87 Stuka. Unquestionably, the Junkers Ju 87 was one of the most devastatingly effective and psychologically terrifying weapons of war ever produced. The howl of its sirens during a dive-bombing attack struck fear into those on the ground, the aircraft possessing an uncanny knack of making each human feel as if the sole target was him. Spearheading the German advances in Poland, Norway, the Low Countries, the Mediterranean and Russia between 1939-1943, the Luftwaffe's Ju 87 Stuka became synonymous with the art of Blitzkrieg warfare. Next to the fighter aces, it was perhaps the Stuka crews who were held in the highest esteem by both German commanders and the German people and their accomplishments became legendary. Stuka aces such as Oskar Dinort, Werner Hozzel, Ernst Kupfer and Hans-Ulrich Rudel were just some accredited with the destruction of literally hundreds of enemy tanks, vehicles and ships as well as locomotives and bridges. This fantastic reference book is the most definitive history currently in the market and covers from the start of production in 1937 till Rudel's last flight surrendering to the US forces at Kitzingen. The book contains around 400 photographs diagrams and technical drawings including those showing factory and manufacturing, close ups of weapons and equipment and operational units. It also contains 50+ colour profile artworks and is also supported by a highly detailed appendix containing information on foreign use, camouflage and markings and handbook illustrations. This will be 'the' book sought after by aviation enthusiasts and modellers this year.
Book Title:
Junkers JU87: From Dive-bomber to Tank Buster 1935-45 (Publication delayed. Now late 2022)
Format:
Hardback, 336 Pages
About the Author:
Eddie J. Creek is co-author of a number of landmark books on Luftwaffe aircraft including Jet Planes of the Third Reich (1982), Arado Ar 234 (1992), Me 262 (1997-2000 - four volumes), On Special Missions - The Luftwaffe's Research and Experimental Squadrons 1923-1945 (2003) and He 162 Volksjager (2009). He has contributed to more books than he cares to remember and today is renowned as having archive material on German WW2 aviation history second to none.
Publisher:
Classic Publications
Title Release:
October 2020
Write a review
Be one of the first to review the Junkers JU87: From Dive-bomber to Tank Buster 1935-45 (Publication delayed. Now late 2022).
If you purchased this product with a shop account, please login before reviewing the product.
Recommended Products