Vought F7U-3 Cutlass: Famous American Aircraft - DELAYED NOV 23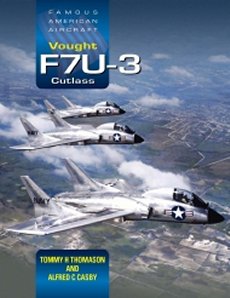 Format: Hardback
The Chance Vought F7U Cutlass was ahead of its time. In 1948, when it first flew, it could hardly have been more exotic or state-of-the-art: a tail-less fighter to be powered by two afterburning jet engines. It was not only to be carrier-based but also climb quicker and be faster than the Air Force's new swept-wing North American F-86 Sabre. Developmental problems resulted in it taking too long to reach operational squadrons, which partly accounts for its relatively unsuccessful career.
The Cutlass was designed too soon to benefit from the discovery of the area rule, which doomed it to transonic performance in level flight. Similarly, its lack of a horizontal tail was intended in part to address the transonic pitch-control difficulties being encountered at the time but they proved to be avoidable with one. Unfortunately, no horizontal tail resulted in it not only being radical in appearance but also having challenging handling qualities at approach speed.
The F7U-3's service introduction was also accomplished before the Navy perfected a rigorous process for transitioning pilots to new airplanes, particularly important in the case of the Cutlass and its unusual handling qualities, one of which resulted in a rare aeronautical phenomenon, the post-stall gyration. It was also first deployed before the introduction of the angled-deck concept that greatly reduced the degree of difficulty in landing high-performance jet fighters back aboard a carrier.
The F7U Cutlass did eventually join the fleet and deploy, albeit to mixed reviews. It is often included, perhaps unfairly, on short lists of the world's worst jet fighters. It was genuinely innovative in many respects and this new detailed history of the development and operation of the type provides a more balanced perspective on what was a fascinating aircraft.
Book Title:
Vought F7U-3 Cutlass: Famous American Aircraft - DELAYED NOV 23
Author:
Tommy H. Thomason & Alfred C. Casby
Publisher:
Crecy Publishing
Title Release:
November 2023
Write a review
Be one of the first to review the Vought F7U-3 Cutlass: Famous American Aircraft - DELAYED NOV 23.
If you purchased this product with a shop account, please login before reviewing the product.
Recommended Products