Then. Now. Always: Royal Australian Air Force Illustrated History 1921-2021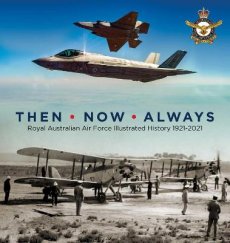 Format: Hardback
Royal Australian Air Force has come a long way since its early beginnings in the Australian Flying Corps, an element of the Australian Army.

From its birth as a fledgling little brother of the other two services, the RAAF has developed over the years in its elements of raising, training, and sustaining an effective force, its people, its tools of the trade, its involvement in operations and peacetime activities, and how it looks to the future.

Commemorating the 100 Year Anniversary of the Royal Australian Air Force, Then. Now. Always covers the story of the AFC and the RAAF during time of both war and peace, with carefully researched text relating to various stages of the life of the RAAF. These historical facts have been combined with interesting personal adventures to provide a holistic view of the RAAF story, and is illustrated throughout with an extensive range of both black and white, and colour photographs.
Book Title:
Then. Now. Always: Royal Australian Air Force Illustrated History 1921-2021
Author:
Air Force History Branch
About the Author:
These titles are authored by the members of the History and Heritage Branch Air Force and include, Despina Tramoundanis, David Richardson, and Peter Wood. All these authors have had extensive service and experience with the Royal Australian Air Force. History and Heritage - Air Force was established on 7 March 2016 as a branch within the Royal Australian Air Force Headquarters. With the Branch's headquarters located at RAAF Amberley in Queensland, it has personnel located at numerous locations around Australia. The work of the Branch is to collect, study, preserve and manage records, artefacts and estate from the Australian Flying Corps to today's Air Force, and by displaying the collection at the RAAF Museum and RAAF Aviation Heritage Centres around the country to enhance Air Force's capability and reputation, while meeting Government and community expectations.
Publisher:
Big Sky Publishing
Title Release:
December 2021
Write a review
Be one of the first to review the Then. Now. Always: Royal Australian Air Force Illustrated History 1921-2021.
If you purchased this product with a shop account, please login before reviewing the product.