Cold War Warriors: Royal Australian Air Force P-3 Orion Operations 1968-1991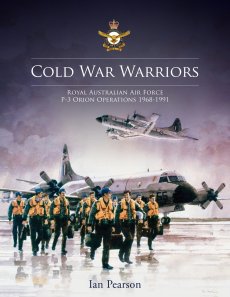 Format: Hardback
Cold War Warriors tells the little-known story of the operations by the Royal Australian Air Force's P-3 Orions during the latter years of the Cold War. The aircraft's largely low-profile missions, usually flown far from their base, were often shrouded by confidentiality. Now, access to declassified documents has allowed this story to be told. From the lead-up to their delivery in 1968, to the end of the Cold War in 1991; from the intrigues associated with the procurement of the aircraft and subsequent upgrades, to perilous moments experienced by the aircraft and their crews while conducting operations; and from triumphs to tragedies; Cold War Warriors documents the P-3's service in the RAAF in the context of the unfolding domestic and international events that shaped the aircraft's evolving missions.

As well as being a story of the RAAF Orions and their growing capabilities, Cold War Warriors is also the story of the crews who flew the aircraft. Using their words, Cold War Warriors faithfully describes a number of incidents, both on the ground, and in the air, to provide a sense of the enormous breadth of service the P-3 Orion has provided to the Royal Australian Air Force, to Australia and to our allies.
Book Title:
Cold War Warriors: Royal Australian Air Force P-3 Orion Operations 1968-1991
About the Author:
Ian Pearson joined the Royal Australian Air Force as a cadet aircrew in 1976. After navigator training, he served with 10 Squadron (two postings), 11 Squadron (on attachment), and postings to 292 Squadron and Headquarters 92 Wing. His subsequent postings included Director of the Office of the Chief of Air Force, Defence Adviser Singapore, Director Coastwatch Operations, and Chief of Staff, Joint Offshore Protection Command (subsequently Maritime Border Command)
Publisher:
Big Sky Publishing
Title Release:
September 2021
Write a review
Be one of the first to review the Cold War Warriors: Royal Australian Air Force P-3 Orion Operations 1968-1991.
If you purchased this product with a shop account, please login before reviewing the product.