Australian Master Bookkeepers Guide - 8th Edition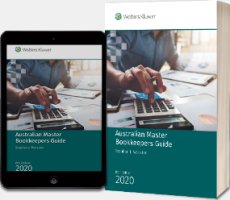 Format: Paperback
POST FREE within Australia
Ensure you are relying on up-to-date information with this handbook for bookkeepers and accountants covering all bookkeeping essentials as well as a range of accounting, taxation, GST and FBT issues. This edition has specifically been updated to take into account all relevant changes to 30 June 2020.
KEY FEATURES:
With revisions to its GST, FBT, payroll and superannuation chapters, this edition also reflects the new taxation rules and tax rates that apply to bookkeepers and their clients. Apply the rules confidently with worked examples, diagrams, checklists, tables and bookkeepers' FAQs. Updated content relating to SuperStream and single touch payroll has been, as well as the Federal Government's COVID-19 stimulus package measures, including JobKeeper, JobKeeper 2.0 and cash flow boost for employers.
Section A: Bookkeeping and accounting principles:
Introduction to bookkeeping
Recording transactions
Adjusting entries and preparation of the financial statements
Accounting for GST
Accounting for cash, debtors and creditors
Accounting for inventory
Accounting for non-current assets
Financial statement analysis
Section B: Key taxation issues for bookkeepers:
Understanding the GST
The taxation consequences of trading stock
Depreciation for taxation purposes
Payroll and superannuation
Small business entity concessions
Understanding fringe benefits tax
Buying and selling a motor vehicle
How to prepare a BAS
Resources and checklists for bookkeepers
Book Title:
Australian Master Bookkeepers Guide - 8th Edition
Author:
Stephen J Marsden
Title Release:
November 2020
Write a review
Be one of the first to review the Australian Master Bookkeepers Guide - 8th Edition.
If you purchased this product with a shop account, please login before reviewing the product.
Recommended Products