Annual Dividend Book Collection 2020/21 (Pack)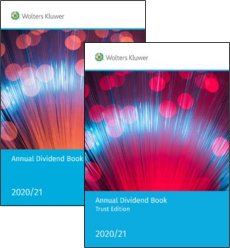 Format: Paperback
Annual Dividend Book 2020/2021
The Annual Dividend Book provides relevant dividend, corporate action and share price data for the most recent tax year. It details every publicly-listed company and trust in Australia in alphabetical order and displays easy-to-read and consistent tax data. It provides users with ALL of the data needed for income tax, the administration/auditing of self-managed superannuation funds, for capital gains tax and portfolio administration in a simple and easy-to-use format.
Annual Dividend Book - Trust Edition 2020/21
Now you don't have to wait until the following year to get information on trusts' final distributions and tax-deferred components. Available in either print or eBook format, the Annual Dividend Book Trust Edition is focused solely on publicly listed trusts (no information on company shares included). This publication allows you to service your clients with investments in trusts from October, and is the perfect companion to the Annual Dividend Book.
Book Title:
Annual Dividend Book Collection 2020/21 (Pack)
Title Release:
August 2021
Write a review
Be one of the first to review the Annual Dividend Book Collection 2020/21 (Pack).
If you purchased this product with a shop account, please login before reviewing the product.