Annual Dividend Book - Trust Edition 2020/21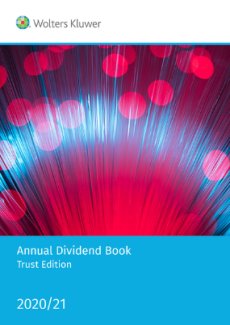 Format: Paperback
Now you don't have to wait until the following year to get information on trusts' final distributions and tax-deferred components. Available in either print or eBook format, the Annual Dividend Book Trust Edition is focused solely on publicly listed trusts (no information on company shares included). This publication allows you to service your clients with investments in trusts from October, and is the perfect companion to the Annual Dividend Book.
The Trust Edition is delivered in the usual format of the Annual Dividend Book with the addition of each trusts' annual tax components.
Detailed and accurate coverage of every publicly-listed trust in Australia:
Data covering all distributions paid, tax-deferred components and all tax-relevant events for the most recent tax year
Detailed information on corporate actions for the reconciliation of holdings during the most recent tax year
Security prices as at 30 June
Quick access to share registry and website details
The CGT-effect of capital changes
Australian Taxation Office class rulings.
Book Title:
Annual Dividend Book - Trust Edition 2020/21
Title Release:
August 2021
Write a review
Be one of the first to review the Annual Dividend Book - Trust Edition 2020/21.
If you purchased this product with a shop account, please login before reviewing the product.