Australian Master Superannuation Guide 2021/22 25th Edition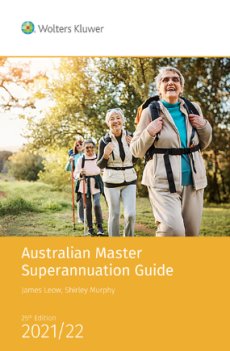 Format: Paperback
POST FREE within Australia -
Staying current is crucial with the various, continuous changes to superannuation regulation and taxation.
This convenient first reference point provides readers with the precise knowledge and tools required to work easily and efficiently.
The Australian Master Superannuation Guide presents:
Systematic evaluation of the law through detailed commentary centred on a sound review of superannuation and tax legislation
References to official rulings and guidelines as well as court and tribunal decisions
An "instant reference" chapter with updated rates, thresholds and checklists, and
Cross-references to further information found in other Wolters Kluwer services.
This latest edition contains discussions on significant tax and superannuation changes to 1 July 2021.
Commentary on proposed but not yet enacted amendments is also included:
Book Title:
Australian Master Superannuation Guide 2021/22 25th Edition
Title Release:
September 2021
Write a review
Be one of the first to review the Australian Master Superannuation Guide 2021/22 25th Edition.
If you purchased this product with a shop account, please login before reviewing the product.