Aviation Books

> Short Stirling Mk I/III In RAF Service: Wingleader Photo Archive Number 7
Short Stirling Mk I/III In RAF Service: Wingleader Photo Archive Number 7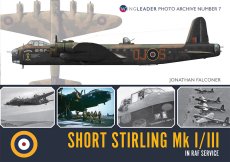 Format: Paperback
This is the first of two books based on the Short Stirling. Designed by the Short Brothers it was the first four engined heavy bomber aircraft used by the RAF in the second world war.
An introduction to the NEW Wingleader Photo Archive Series.
‍For quite a few years, Simon Parry and Mark Postlethwaite have been building up a huge library of original WWII aviation photos, partly as a hobby but mainly to help provide photos for the books that they publish. With over 30,000 now in the collection, they realised that they had more than enough to produce a series of photo books on individual aircraft types and sub-types. They set out to make the series as ideally suited to modellers and artists as possible, so large photos, using A4 landscape format, and minimal text except for extended captions. Effectively their aim is to produce a 21st Century version of the Profile Publications series of books from the 1960s, using the latest technology to reproduce their wartime photos to the highest standard possible.
This series is unique in that it will be able to provide large format ORIGINAL photos up to full A4 landscape format width, which is at least 50% larger than any standard book can deliver. Combined with the specialist knowledge of a team of historians and contributors, each book should provide unbeatable and accurate references for any modelling or painting project.
"After the very positive reaction to our first Lancaster book in this series, we're delighted to continue our RAF Bomber Command theme with this, the first of two books on the Short Stirling. For us, there was only ever one author 'in the frame' for this one and we're delighted to say that Jonathan Falconer accepted the challenge and has produced a stunning tribute to this leviathan of the skies.
The Stirling has come in for a lot of Flak over the years, both literally and metaphorically. Hampered by a poor service ceiling and a Dastardly and Muttley style undercarriage, it has always lived in the shadow of the more illustrious Lancaster and Halifax. However, most crews that flew the Stirling were very fond of the aircraft and although its capabilities as a bomber were never as strong as its contemporaries, it blossomed into an extremely useful glider tug and Special Duties aircraft towards the end of the war. This aspect will be covered in our second book on the aircraft.
As usual in this series, we devote most of the space to high-res original wartime photos, which we examine very closely to pick out details that have been hiding in plain sight for over 70 years."
This book contains approx 120 original wartime/pre-war photos and 6 in-depth colour profiles
Book Title:
Short Stirling Mk I/III In RAF Service: Wingleader Photo Archive Number 7
Author:
Jonathan Falconer
About the Author:
Jonathan Falconer is the author of more than 40 books on aspects of aviation and military history. He is an authority on the Short Stirling bomber and has previously written Stirling at War, Stirling Wings, Stirling in Combat, the Haynes Short Stirling Manual and Short Stirling Units of World War 2. Continuing the RAF Bomber Command theme he is also the author of the Handley Page Halifax Manual, de Havilland Mosquito Manual (with Brian Rivas) and the Bomber Command Operations Manual. Jonathan lives in Bradford-on-Avon, Wiltshire.
Title Release:
April 2021
Write a review
Be one of the first to review the Short Stirling Mk I/III In RAF Service: Wingleader Photo Archive Number 7.
If you purchased this product with a shop account, please login before reviewing the product.