The Locomotives of the Isle of Wight Railways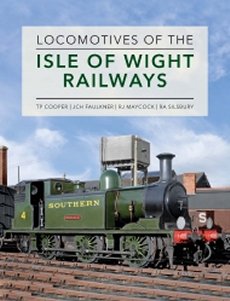 Format: Hardback
Island railways hold an enduring fascination for railway enthusiasts and although many books have been published about the railways on the Isle of Wight surprisingly very little has been written about the locomotives which ran on the island.
Apart from a modest volume written by the late D.L.Bradley which was published in 1982, there has been no attempt to compile a definitive history of all the locomotives which have seen service on the island since the opening of the first line, that between Cowes and Newport, on 14 June 1862. Compiled by four members of the Isle of Wight Steam Railway who are donating their royalties from the sale of this book to the IWSR to further its activities, this book seeks to redress that deficiency.
Building on the acquired rights of the Bradley book, this history uses every available resource to present as much information as possible on all the locomotives which worked on the island and includes a selection of colourised images to depict as accurately as possible the variety of liveries carried by those locomotives. The story is brought up to date with the inclusion of details of locomotives which are now preserved on the Isle of Wight, some of which are types seen today on the island for the first time.
Book Title:
The Locomotives of the Isle of Wight Railways
Submit your review
Be one of the first to review the The Locomotives of the Isle of Wight Railways.
If you purchased this product with a shop account, please login before reviewing the product.