Nachtjager: Luftwaffe Night Fighter Units 1939-45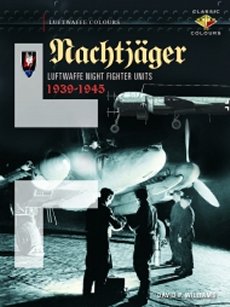 Format: Hardback
This is a compendium edition of the highly regarded and long out of print Nachtjager volumes in the acclaimed Classic Colours series on the aircraft, camouflage and markings of the Luftwaffe between 1939-1945. The book focuses on the operations and the aircraft of the Nachtjagd from its origins in the inter-war years, to its formation as an embryonic and innovative force in 1939 and through its desperate and climactic battles against the massed raids of RAF Bomber Command from 1939 onwards. The force evolved from using single-seat Bf 109s to twin-engined Bf 110s and Ju 88s, fitted with technically advanced radar equipment and weapons systems, supported by a sophisticated ground reporting network.
It produced many leading night fighter aces such as Wolfgang Falck, Heinz-Wolfgang Schnaufer, Helmut Lent and Hans-Joachim Jabs. As the war progressed and the strategic situation began to tilt away from Germany's favour so, ironically, the pace of development quickened with the Luftwaffe introducing uprated versions of the Ju 88 as well as new types such as the Do 217 and He 219. In the last, desperate months of the war, even the Me 262 was introduced as a night fighter in limited numbers. Nachtjager is an important resource for modellers and students of Luftwaffe history, providing a detailed narrative augmented by many photographs and specially commissioned colour profiles.
Book Title:
Nachtjager: Luftwaffe Night Fighter Units 1939-45
Publisher:
Crecy Publishing
Submit your review
Be one of the first to review the Nachtjager: Luftwaffe Night Fighter Units 1939-45.
If you purchased this product with a shop account, please login before reviewing the product.