Australian Master Tax Guide 2021 68th Edition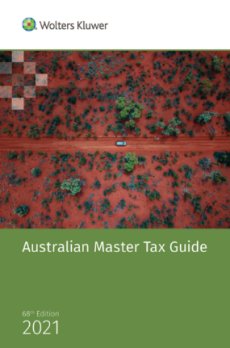 Format: Paperback
POST FREE within Australia
Confidently and quickly navigate all areas of tax with the  Australian Master Tax Guide. Access authoritative commentary, practical examples, tax planning points, checklists and key tax dates, with ease. Up to date to 1 January 2021. Essential for all accountants, tax lawyers, financial advisors and payroll officers.
KEY INCLUSIONS:
​

A complete chapter of practical checklists, including expanded tax return preparation checklists for company, partnership and trust tax returns;
Complete effective life (depreciation) tables and calendar of key tax dates;
Comprehensive subject index and finding lists;
Practical examples and tax planning points;
Authoritative commentary on all aspects of federal income tax (including capital gains tax), GST, FBT, fuel tax credits, superannuation;
Overviews of State taxes such as duties, payroll tax and land tax.
CONTENTS:
Highlights of 2020 tax changes
Checklist of tax changes in 2020/21
Different types of taxpayers
Income, capital gains
Superannuation, termination payments
Deductions, personal offset

Capital allowances, incentives
International tax
Tax and BAS agents, TFNs, ABNs
Other taxes (GST, FBT, payroll tax, stamp duty, land tax, superannuation guarantee charge and fuel tax credits)
Book Title:
Australian Master Tax Guide 2021 68th Edition
Title Release:
January 2021
Submit your review
Be one of the first to review the Australian Master Tax Guide 2021 68th Edition.
If you purchased this product with a shop account, please login before reviewing the product.
Recommended Products