Crowded Skies: Cold War Reconnaissance over the Baltic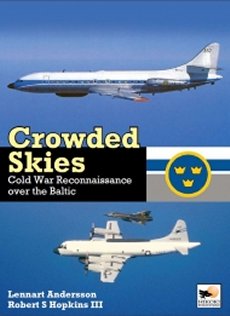 Format: Hardback
Throughout the Cold War, the close proximity of the Soviet Union and its allies to NATO countries and neutral Sweden dominated intelligence demands in the Baltic region, leading to extensive aerial reconnaissance operations. This book covers early ELINT (electronic intelligence) missions by Swedish WW II vintage Junkers Ju 86s as well as American and British RB-17s, PB4Y-2 Privateers, Lancasters, and Mosquitos.
Additional chapters chronicle jet-age ELINT missions undertaken by SAC RB-47s and RB-57s along with RAF Canberras and Comets from England, as well as USAFE RB-50 and C-130 COMINT flights from West Germany. Concluding chapters describe SAC RC-135, U-2, and SR-71 sorties—plus those by RAF Nimrods—as well as regular reconnaissance flights by Sweden, Finland, West Germany, France, the Soviet Union, Poland, and East Germany.
This meticulously researched book by distinguished Swedish author Lennart Andersson and former RC-135 pilot and Cold War historian Robert Hopkins uses newly declassified documentth Ns first-hand accounts to tell the story of these diverse and often dangerous missions. Profusely illustrated with many rare and previously unpublished photographs, the book is filled with detailed mission maps, tables and appendices, and will be of great interest to Cold War aviation historians.
Book Title:
Crowded Skies: Cold War Reconnaissance over the Baltic
Author:
Lennart Andersson & Robert S Hopkins
Publisher:
Hikoki Publications
Title Release:
December 2021
Write a review
Be one of the first to review the Crowded Skies: Cold War Reconnaissance over the Baltic.
If you purchased this product with a shop account, please login before reviewing the product.
Recommended Products