Australian Master Superannuation Guide 2019/20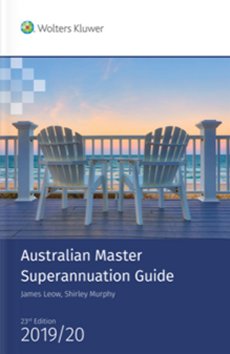 Format: Paperback
POST FREE within Australia
Essential for anyone advising on superannuation, this book explains the rules and answers your questions about superannuation law and practice in Australia and its numerous changes.
This new edition reflects all major tax and superannuation changes to 1 July 2019.
Access 18 chapters of current, in-depth commentary and practical tools such as examples, tables, checklists, rates, thresholds and checklists.

KEY FEATURES
A clear analysis of the law through in-depth commentary based on the solid foundation of the superannuation and tax legislation|
References to official rulings and court and tribunal decisions
An "instant reference" chapter with updates
Rates, thresholds and checklists, and
Cross-references to additional information contained in other Wolters Kluwer services.
Book Title:
Australian Master Superannuation Guide 2019/20
Title Release:
August 2019
Author:
James Leow and Shirley Murphy
Submit your review
Be one of the first to review the Australian Master Superannuation Guide 2019/20 .
If you purchased this product with a shop account, please login before reviewing the product.