Anglo Nostalgia: Politics of Emotion in a Fractured West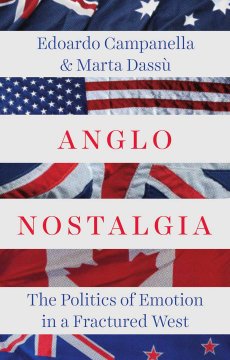 Format: Hardback
Nostalgia has become a major force in global politics. While Donald Trump promises to 'make America great again', Xi Jinping calls for a 'great rejuvenation of the Chinese people', and a majority of Russians still mourn the Soviet Union. Now, hardline Brexiteers are yearning for a revival of the British Empire.
Despite its romantic flavour, nostalgia is a malaise—a combination of paranoia and melancholy that idealises the past, while denigrating the present. This epidemic of mythicising national history is shaping politics in risky ways, fuelled by ageing populations, shifts in the global order, and technological disruption. Nowhere has more starkly epitomised this new age of nostalgic nationalism than Britain, where Brexiteers trapped in an idealised past are reviving calls for a political Anglosphere, founded on dreams of their buccaneering heritage and inherent connection with their true 'kith and kin'.
Drawing on psychology, political science, history and popular culture, Anglo Nostalgia analyses the rapid spread of this global phenomenon, before focusing on Brexit as a case study. Without seeking to judge the wisdom of Britain leaving the EU, Campanella and Dassù expose nostalgia's great danger: the oversimplification of reality, leading to unprecedented political miscalculations and rising geopolitical tensions.
Book Title:
Anglo Nostalgia: Politics of Emotion in a Fractured West
Publisher:
C Hurst & Co Publishers Ltd
Title Release:
April 2019
Author:
Edoardo Campanella & Marta Dassu
About the Author:
Edoardo Campanella is a Future World Fellow at IE University, Madrid. A shortlisted author for the Bracken Bower Prize, he contributes regularly to Foreign Affairs and Project Syndicate. Marta Dassu, Senior Director of European Affairs at the Aspen Institute, was Italy's Deputy Minister of Foreign Affairs from 2011 to 2014.
Submit your review
Be one of the first to review the Anglo Nostalgia: Politics of Emotion in a Fractured West.
If you purchased this product with a shop account, please login before reviewing the product.
Recommended Products