Buses Yearbook 2019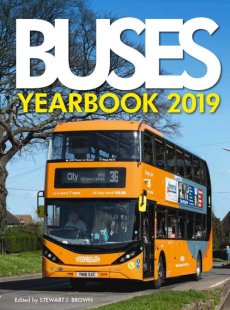 Format: Hardback
Buses Yearbook, the annual publication linked to the monthly Buses Magazine, has been published in various guises every year since the early 1960s. Its annual publication is eagerly anticipated by many bus enthusiasts.
Edited by Stewart J Brown, who has been responsible for Buses Yearbook since 1987, this new 2019 edition continues the tried and tested mix of articles and photo-features, covering topics both historical and contemporary.
Amongst the highlights of the 2019 edition are;
Go Ahead in East Anglia
The Pacific Northwest
Atlanteans, Artics and Arrows
A North and Mid Wales Miscellany
The Changing Face of Nottingham's Buses
and much more besides in this must have publication aimed at bus enthusiasts across the spectrum.
Book Title:
Buses Yearbook 2019
Publisher:
Key Publishing
Title Release:
October 2018
Author:
Stewart J Brown (Editor)
Recommended Products